AQ-4100 Shower Filter with Massaging Wand AQ-4105.1
The AQ-4105 Aquasana Shower and Massaging Wand Filter is a truly amazing product which offers dramatic health & cosmetic benefits. The Aquasana shower system filters out harmful chlorine while balancing the pH of the water. Installs in seconds without tools. Turn your shower into a natural spring waterfall for softer skin and healthier hair. Includes a shower filter and adjustable massage shower wand with a 1.524m long hose.The deluxe, adjustable swivel collar allows for adapted water pressure to provide the most relaxing and cleansing shower experience ever.
Benefits:
Reduces up to 99% Chlorine, VOC's, THM's
Softer Skin and Hair Guarantee
Lasts up to 40,000 litres!
Installs in Seconds (Easy Install Video link)
Balances the pH
Fits All Standard Pipes
60 Day Satisfaction Guarantee
Massaging Shower Head shown in picture left is excluded and not applicable for Singapore market
Fit to most Singapore household shower unit; H2ofresh has a special adaptor for shower using hot shower electric heater
1.524m hose on shower wand
Made in the USA
Can be used with water up to 50° C; 36° - 42° C is normal shower temperature. It is self-cleaning, and the non-aerated spray means less temperature loss between the showerhead and you.
A handheld shower wand filter system is also available, see model AQ-4106 for details.
The Aquasana Shower Filter has a unique two-stage
filter process for the healthiest shower possible.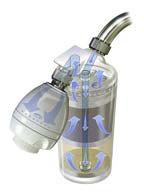 The first stage removes and enhances pH balance with a natural copper/zinc mineral media called KDF-55D.
The second stage reduces synthetic chemicals and VOCs (volatile organic chemicals) through a carbonized coconut shell media. These synthetic chemicals and VOCs can be inhaled or absorbed through the skin, which may cause health or cosmetic effects.
The result is the healthiest, most refreshing shower experience you'll ever have daily.... for less than 40¢ a day or for half the price of bottled water! Note: the picture to the left shows a shower wand (not included) and can be purchased separately.
Replacement filters for the shower only $69.00 every 40,000 litres – Replacement Filter AQ-4125
Anyone who has ever swam in a chlorinated pool knows how chlorine robs moisture from your skin and hair. What most people don't realize is that typically there is as much or more chlorine in tap water as there is in most swimming pools. Chlorine strips the natural protective oils from skin and hair, causing excess dryness. Without the harsh influences of chlorine you'll notice significant cosmetic benefits... Softer skin & hair in a week or your money back! Also by removing chlorine and other chemicals found in tap water, you eliminate health risks related to inhalation and skin absorption of these chemicals... now known to be a significant source of exposure to harmful VOCs & THMs.
Your shower water will feel better, and be better for you!
The Environmental Protection Agency (EPA) regulates how a small amount of chlorine is added or some other disinfection method is used to kill bacteria or microorganisms that may be in tap water. Excess exposure to chlorine can also be detrimental to your health. Chlorine steals moisture from skin and hair, causing excess dryness. Other health conditions caused by chlorine include respiratory condition such as asthma and bronchitis. Chlorine can also be re-vaporized in the shower, inhaled into the lungs and transferred directly into the blood system. Small children, infants and those with weak immune systems may also be susceptible to the damaging effects of highly-chlorinated tap water.  Order now and in less than 1 week you'll be showering in naturally healthy, chemical free water!  The Aquasana Shower Filter is the healthy solution to protect yourself from the damaging effects of chlorine.
The Aquasana Shower Filter and Wand is easy to install and comes complete its two-stage filter cartridge that last up to six months. The model features an adjustable handheld shower wand.
The Aquasana Shower Filter is the ideal choice for people with skin or respiratory conditions. Look and feel better - inside and out - after showering with the Aquasana Shower and wand filter. You'll notice the health benefits of softer skin in less than a week!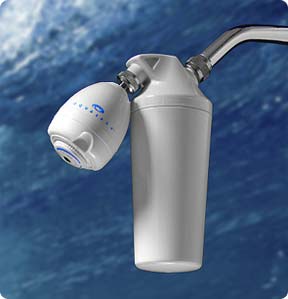 Shower Filter
Our Price: $158.00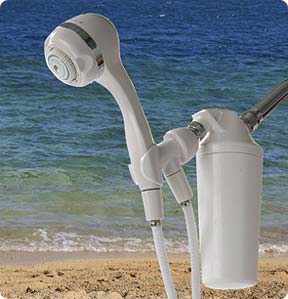 AQ-4100 Shower Filter with Massaging Wand AQ-4105.1
Our Special Offer: $218.00
(only available from H2oFresh™ directly)
Voted Best Buy 2006/2008 by Consumers Digest Magazine. 100% Satisfaction Guaranteed!
"The Aquasana® Shower Filtration System is one of the most unique and beneficial products ever developed."
Dr. Ranya Alexander PhD. M.D.,Co-Founder, Co-Chair National Health & Wellness Club
"It's Like showering in natural spring water!"
Jonathan Antin/Celebrity Hair Stylist, Host of Reality Show "Blow-Out"
Installs in seconds and provides healthy filtered water for showering. The best shower you'll ever take! "I'd recommend it to anyone."
Dr. Julian Whitaker
Offers tremendous benefits to people with skin conditions and breathing disorders. "The benefits are immediate and very noticeable!"
Dr. Alan Pressman/Health Talk Radio