Countertop Drinking Water Filter
AQ-4000 Dual-Filter Drinking Water System includes 2 filter cartridges, chrome faucet adapter & instructions.  Get the best water at a fraction of the cost of bottled water.  Aquasana's exclusive dual filter system uses a combination of carbon filtration, ion exchange and sub-micron filtration to produce truly healthy, great tasting water at the convenience of your kitchen tap. Naturally healthy, great tasting water at the pull of a button!
Benefits:
Reduces up to 99% Chlorine, Lead, Mercury, VOC's, THM's, MTBE and 100 other common tap water contaminants!
Sub-Micron Filtration
Filter out 99.99% of Cryptosporidium and Giardia (chlorine resistant parasites)
Leaves in the natural trace minerals
Improves taste and smell
Lasts up to 2000 litres or 6-8 months; not more than $0.55 a day!
Removes Turbidity
Compact design (18cmWx23cmHx10cmD)-Installs in seconds
60 Day Satisfaction Guarantee!
Tasted better than bottled water quality Replacement cartridges lasts up to 6-8 months; at less than 4¢ a day or only 4¢ a litre (2000 litres)!
Running cost is 18X cheaper than buying a 1.5 Litre bottled water at $1.05 (70¢/L).
Saves the environment by not using any plastic bottles!
Made in the USA!
Outstanding System Performance:
Aquasana is the #1 rated home water filtration system in America, works better & costs less than any other brand!
The patented twin cartridge drinking water filter installs in seconds to standard kitchen faucets and provides up to 2 litres per minute of ultra-filtered high quality water for drinking, cooking and other beverages. Includes filter housing' chrome faucet diverter' twin filter cartridge set (lasts 6-8 months/filters 2000 litres) and easy to follow instructions. Replacement filters cost $79 every 6 months/2000 litres...that's less than 4¢ a litre/ $10.00 a month for a virtually unlimited supply of "healthy water".
Replacement Filter – $79.00 every 6 months or 2000 litres whichever comes first. Remember, each filter cartridge set can replace over 2000 single use plastic water bottles!
"At the pull of a button, Aquasana transforms tap water into naturally healthy, great tasting drinking water!"
Replacement of filters past the recommended period of 6-8 months will cause pre-mature diverter failure and system cracks.
How does it work? Aquasana's Patented Filtration System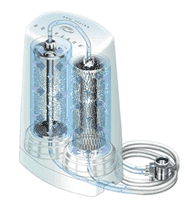 Aquasana's twin cartridge, multi-stage filtration process uses a combination of the most effective technologies available - mechanical filtration, adsorption and ion exchange. This patented process selectively filters out specific contaminants while allowing the natural minerals to remain, creating the healthiest, best tasting water possible.
The "A" cartridge filters out sediment and turbidity first; tiny microscopic particles that can cause cloudiness and unpleasant taste and odor in water.
The "A" cartridge also filters out chlorine, the most concentrated and the most competitive chemical in our water.
This allows the following stages in cartridge "B" to focus on the more difficult contaminants like lead and synthetic chemicals.
The "B" cartridge is where the final stages of filtration take place. Lead is filtered out by a complex ion exchange process where lead ions are replaced with potassium ions.
The process is highly effective and also enhances the natural mineral balance of water. Potassium is one of the minerals that gives water a natural spring water taste and a neutral pH.
Next is the most challenging and possibly the most important stage, the adsorption of synthetic chemicals, like herbicides, pesticides and industrial solvents.
The "B" cartridge is also a 0.5 micron mechanical filter effective for chlorine resistant microscopic organisms like cryptosporidium and giardia, two common water borne parasites that can cause flu like symptoms for most, but can also be fatal to small children and the elderly.
If you are interested in installing this system under the counter you may want to look at the undercounter systems – Premium Undercounter Drinking System