Rhino EQ-300® - Whole House Water Filter System 2-4 Bathrooms
One of the most fastest growing ultimate home water filters in Singapore!
The Aquasana Rhino EQ-300® offers the benefits of filtered water to every tap and shower in your home.  The Rhino EQ-300® whole house water filter has completed three years of evaluation by Underwriters Laboratories. The product, the factory and all performance claims are certified by UL under the strictest industry guidelines.  This deluxe, high-capacity system is easily installed in any home and has a 1,200,000-litres./3-year certified capacity, the best value of any whole house system in the World!
If you have a large home with more than 4 bathrooms or a family pool you may require 2 systems plumbed in parallel.  Please give us a call to ensure the proper system for your home. Call 6345-3537
EQ-300® Home Benefits:
Removes 99.99% harmful chlorine
No pressure loss
No electricity or backwashing
Improves taste and odor
Certified Performance UL
90 Day Satisfaction Guarantee
Traps dirt and sediment
27 LPM (litres per minute)
Comes complete and ready to install
Filtered water throughout every tap
1,200,000 litres capacity/ 3 years
Height 114.5cm
Base Diameter 23cm
Weight (in 2 packages) 1 x 25kg; 1 x 2.5kg
FDA approved food-grade fibreglass/plastics.
Support Documentation:
How It Works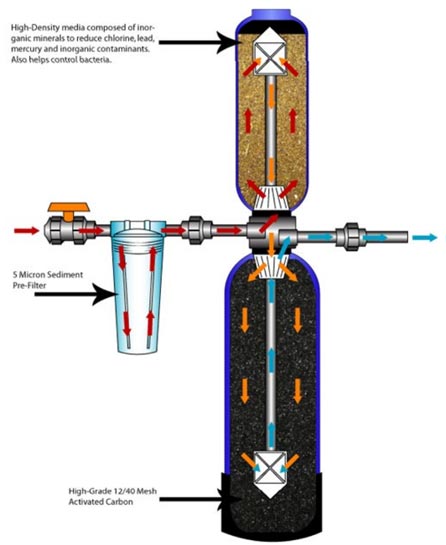 The Aquasana Rhino EQ-300 utilizes a patented four stage filtration for optimum quality and performance.
Stage 1: 5 micron sediment pre-filter for the removal of sediment, rust, dirt and debris that can clog or impair the main filter.
Stage 2: A blend of KDF-55, a copper/zinc oxidation media for the removal of chlorine, and a crushed mineral filter stone to enhance pH balance of the water.
Stage 3: Activated coconut shell carbon for maximum reduction of synthetic chemicals.
Stage 4: Contains large granules of bituminous activated carbon as a final polishing stage to enhance purity, clarity and taste.  The result is better than bottled water quality throughout the entire home.
What the EPA (Environmental Protection Agency) says about chlorine in your water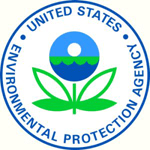 The Environmental Protection Agency (EPA) regulates how a small amount of chlorine is added or some other disinfection method is used to kill bacteria or microorganisms that may be in tap water.  Excess exposure to chlorine can also be detrimental to your health. Chlorine steals moisture from skin and hair, causing excess dryness. Other health conditions caused by chlorine include respiratory condition such as asthma and bronchitis. Chlorine can also be re-vaporized in the shower, inhaled into the lungs and transferred directly into the blood system. Small children, infants and those with weak immune systems may also be susceptible to the damaging effects of highly-chlorinated tap water.
Installation Info
The Rhino EQ-300 whole house water filter comes complete with main filter unit, pre-filter, installation kit, shut-off valve and required hardware. The tank measures 23x117cm and is usually installed in your garden (after water meter), water meter riser in the condo or kitchen in HDB flats.  For proper installation a 72cm line length is required.  The system is designed to handle up to 27 litres per minute flow (standard 3-4 bedroon 3 bath home). The unit may also be installed outdoors where climates do not reach extreme temperatures.  Typical installation takes 1.5 to 2.5 hours by a licensed plumber, at a cost of $250 to $350. Installation material excluded.
Replacement Info
The standard 10", 5-micron sediment pre-filter should be changed every 3-5 months (for Singapore water conditions) depending on the water quality. The main filter unit is easily replaced, no plumber needed, every 3 years/1,200,000 litres whichever comes first. The Rhino EQ-300 whole house water filter system brings healthy, great tasting water to the entire household for about $1.30 a day!
If I purchase the Rhino EQ-300 whole house water filter system is a (P.O.U. - point-of-use) drinking system necessary?
P.O.U. systems are by far the best way to ensure the highest quality water since many water-borne contaminants come from the plumbing in your house, especially lead and vinyl chloride from the piping. By filtering water at the point-of-use, you reduce contaminants just prior to consumption, eliminating the chance of recontamination. Point-of-entry systems are very beneficial in that they provide filtered water to all baths and showers as well as any other water appliances. When you filter all of the water entering your home, you improve not only the healthfulness of the water, but the indoor air quality, as well. Point-of-entry filtration results in the reduction of chlorine and other chemicals that vaporize and contaminate the indoor air.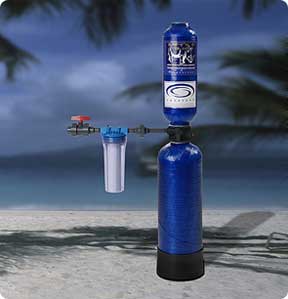 Whole House Water Filter System
for 2-4 Bathrooms.
Our Price: $1698.00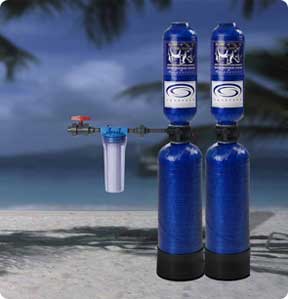 Whole House Water Filter System
for 5-8 Bathrooms.
Our Price: $3388.00